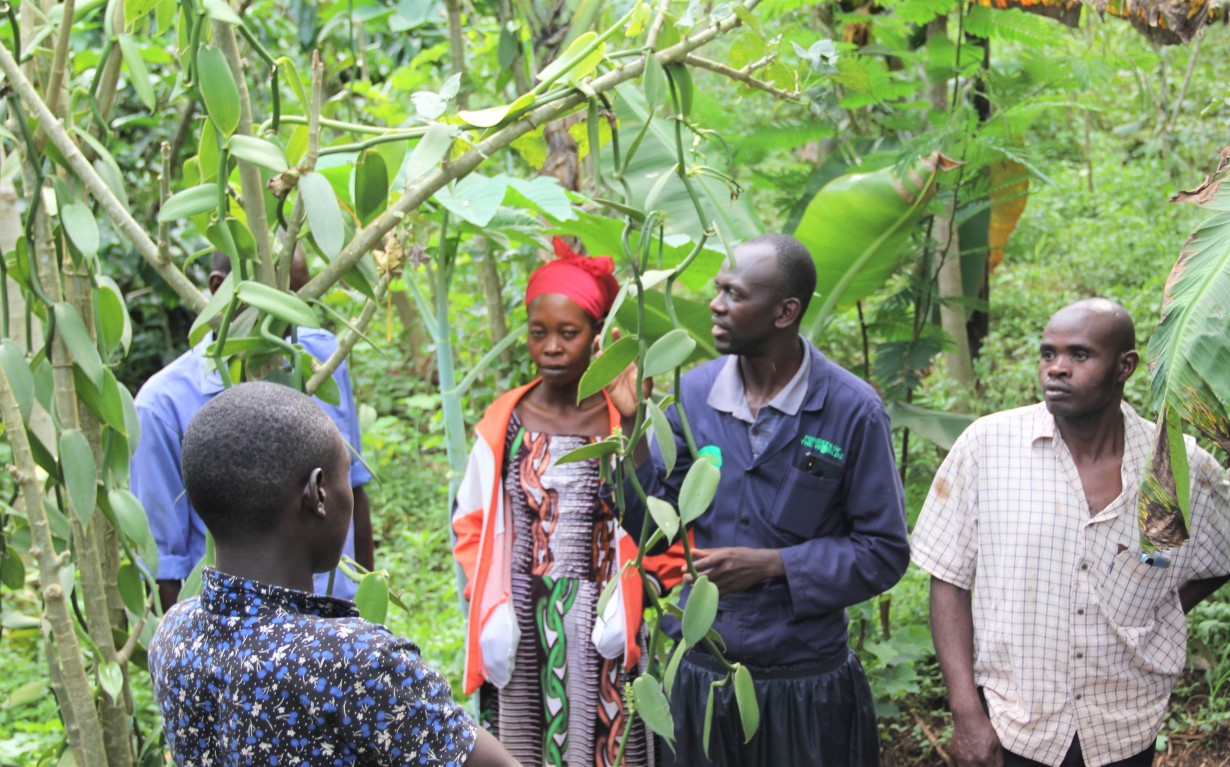 HOW JESE IS USING AGROFORESTRY TO RESTORE, CONSERVE ENVIRONMENT IN KYENJOJO
In 2016, the Ministry of Water and Environment issued a report which showed that Uganda's forest cover was 4.9 million hectares in 1990. However, this had reduced to 1.8 million hectares in 2015.
Several other Geographic Information System (GIS) mappings that have since followed also show a serious reduction in the forest cover of the country, and Kyenjojo in particular has been severely affected.
For instance, according to Global Forests Watch (GFW), an online platform that provides data and tools for monitoring forests, between 2000 to 2020, Kyenjojo lost 62,000 hectares of tree cover.
With a value of environmental stewardship in mind, the Joint Effort to Save the Environment (JESE) with funding from Forests of the World started implementing a project titled "Engaging farmers in the restoration of Kibaale-Matiri-Itwara Elephant corridor", to reverse the situation.
The project is being implemented in the sub counties of Kihura, Kyarusozi, Butunduzi and Kigoyera, and is mainly targeting the farmers who are adjacent to these forest reserves.
Sam Nyakoojo, an agroforestry expert at JESE, explains that the approach being taken in Kyenjojo is the one where farmers are encouraged to integrate high-value crops like cocoa, vanilla and coffee, with indigenous trees. He explains that this is being done to ensure the trees provide shade to the vanilla and cocoa which in turn earns income to the farmers.
"So, it is one way of harnessing restoration because we are looking at cash in form of Cocoa, Coffee and vanilla but also the environment conservation using the indigenous trees like maesopsis, grevillea and others," Nyakoojo explains.
The JESE agroforestry systems are well designed to meet the requirements of the high-value crops and they are being implemented in three models namely; A1, A2 and A3. The models are dependent on the needs and location of the farmer and the agroforestry system being implemented.
For instance, if the farmer is located near the forest reserve, then the A1 model, which looks at more trees than the crops, is used.
"If the agroforestry system is near the farmer's household, then we use fewer trees with much high-value crops," Nyakoojo explains.
So far, there is good adoption of the models. Godfrey Emmanuel is one of those farmers who has already adopted the agroforestry system. The resident of Butunduzi says he was a usual farmer engaged in the growing of beans, maize and such other crops until JESE introduced him to high-value crops.
Emmanuel says that other than planting trees that have grown so well, his vanilla and coffee are looking so nice too and he expects to harvest soon.
"From the first harvest, I might get like 15 kilograms and each kilogram is Shs 50,000. That will be some good income," Emmanuel says.
But that is not all. He also grows some indigenous trees like Maesopsis Emiini (Musizi) and is expectant that around 8 years from now, he will also be earning from them.
"JESE gave us a lot of advice on coffee and how to dry it. I used to harvest one sack of coffee and at times I would even fail to get the one sack. I can now harvest three sacks when the season has gone well. I hope in future, I will not be the same way I'm today," Emmanuel says.
Deus Muhwezi is a resident of Kawaruju parish in Kihura sub county. He explains that before JESE intervention, he was earning little money from his agricultural produce. He says he didn't know about vanilla or cocoa and agroforestry in general, but he is now an expert.
"But I got a chance and JESE selected me to be a Community Based Trainer. So I was selected to have a model agroforestry garden. I started with cocoa and vanilla and I'm about to harvest," Muhwezi says.
To Muhwezi, agroforestry is not just helping him grow high-value crops. He says he also has an apiary and the trees in the system provide the bees with the nectar.
"Actually, in this area, I'm the leading producer of honey because of this agroforestry. Like last season of harvest, there are farmers who didn't get even a kilogram of honey, but for me I managed to get like 40 kilograms because I planted trees like cadiandra; they have flowers all the time. So, bees keep there. So I see I'm getting a lot of money through this agroforestry, there is a time I managed to buy a cow after making over Shs 1.8 million from honey," Muhwezi explains.
CHALLENGES
Ensuring total protection of the environment is a huge task. Non-governmental organizations that partner with JESE like Kyaninga Forest Foundation (KFF), Natural Resources Defense Initiative (NRDI) and others are doing their best to ensure forests and other natural resources are well protected.
But like the Kyenjojo Resident District Commissioner (RDC), Julian Ayesiga, recently stated, the task is so big since some of the encroachers are the same people who are supposed to be giving the protection.
"There is a huge cartel that has infiltrated even us the security. You find that if someone is getting timbers from Muhangi, our own officers are in the know and you will find they have planted some people along the way and as you are moving, they will tell them that the RDC is there. By the time you reach there, you hit a dead end," said Ayesiga at a meeting of stakeholders in environmental protection that was held in Kyenjojo recently.
Also, over a year ago, JESE in collaboration with NBS TV, carried out an investigation which exposed the people behind the loggers' cartel. It was found that even when timbers are cut and authorities informed, they do not respond on time and in other cases, even the timbers that are taken as exhibits to police stations end up disappearing without a trace.
These challenges coupled with the poor mindset about agroforestry among some farmers adjacent to forests are still hindering the successful restoration of environment.
CALL TO GOVERNMENT
Nyakoojo says what is being implemented in Kyenjojo is just a pilot and the goal is to ensure that government adopts the same models and apply them to a wider area.
"So, what we are putting in place should be able to create learning so that the government learns and adopts the implementation of the systems into their annual budgets and plans.," Nyakoojo says.
What's your reaction?
0
Cool
0
Upset
0
Love
0
Lol